Production technologies
Our company works in two main areas. One is production of metal structures, another is manufacturing, repair and restoration of units (thermal and conveyor), glass-forming machines. We offer turnkey service, from development to assembly of the finished facility.
We solve tasks of any complexity. Our resources: facilities and materials, up-to-date equipment, reliable consumables, experience of the team. We have an important advantage: big production areas, which makes it possible for us to take even big-size orders.
Metal processing technologies used in our company:
PLASMA CUTTING

Standard cutting tools are replaced with plasma jet. Thermal cutting is applied to parts with a thickness of at least 2mm.

SAWING BY BAND SAWS

Designed for thin- and thick-walled steel shape bars. You can select the angle of rotation.

METAL BENDING

Electronic and hydraulic devices built into the presses make the sheet forming process fast and highly accurate.

METAL CUTTING

For metal cutting we use guillotine shears characterized by efficiency and high-quality cutting. They can cut blanks of non-ferrous metals, alloys, and steel.

TURNING WORKS

Machining of workpieces to give them the desired shape and size. Involves cutting the inner and outer surfaces of bodies of rotation.

PUNCHING AND CUTTING OF METAL

Cutting strips, rolled section steel, profiled steel with press shear, punching holes, cutting open rectangular grooves.

METAL WELDING

Suitable for welding steel, aluminium, for powder gas-shielded welding.

SHOT BLASTING

Preparation of parts before applying protective and decorative coatings. Removes dirt, rust, deposits from the surface.

POWDER PAINTING

Strong and durable polymer coating.
Production of non-standard equipment
There is a shop for production of non-standard equipment in Promstroienergomontazh LLC premises. We manufacture the following products in our shop:
structural elements of industrial buildings;
containers;
tanks;
staircases;
service platforms;
gates, etc.
In particular, we offer a self-dumping container for industrial bulk, non-bulk, chemical waste and garbage. Container capacity – 1 m3. The container is adapted for transportation by forklift.
We also manufacture containers acc. to individual customer orders (dimensions, material, accessories), depending on the purpose.
Promstroienergomontazh LLC can manufacture and install any type of gates and doors based on individual customer orders (swinging, sliding, insulated).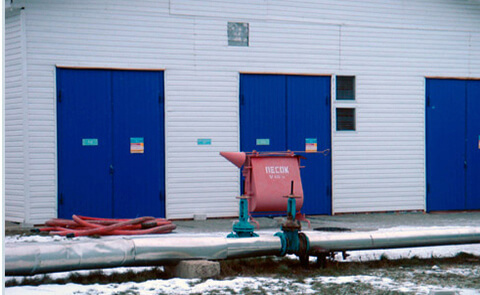 Gates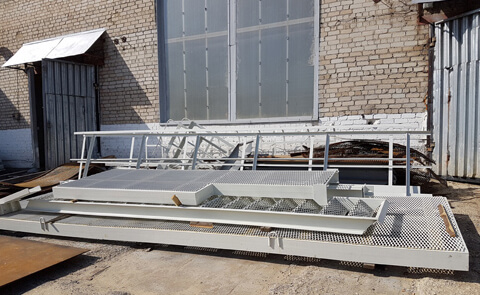 Staircases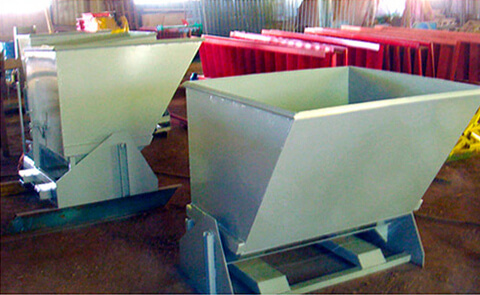 Containers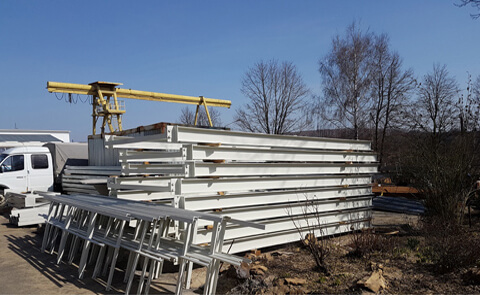 Staircases