Construction of prefabricated buildings
Prefabricated buildings, in which light enclosing structures are fixed on a strong frame, have become widespread in today's construction. Construction of buildings of this type makes it possible to significantly cut costs due to short construction time and low construction expenses, without compromising functionality. At that, the resulting buildings may be different in size, number of storeys, shape and purpose.
Construction of civil and industrial prefabricated buildings is a well-developed activity of Promstroienergomontazh. Compared to buildings made of bricks or reinforced concrete, such structures allow reducing the cost of design, installation, dismantling and subsequent operation up to 40%, with a similar service life.
Scope of application of prefabricated buildings
Scope of application of these prefabricated structures is very extensive: construction of civil buildings, industrial and production facilities, private houses, sports and entertainment centers, warehouses and other facilities. The only exception is buildings that require increased insulation – such as nuclear reactor facilities and bank vaults. This technology is also not used in mass residential construction.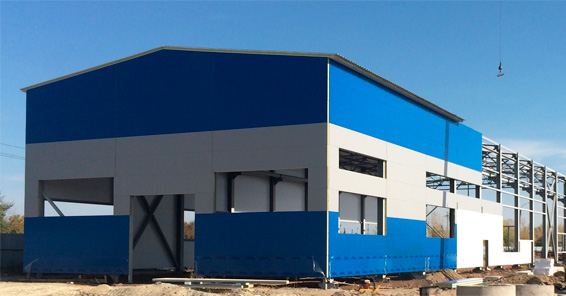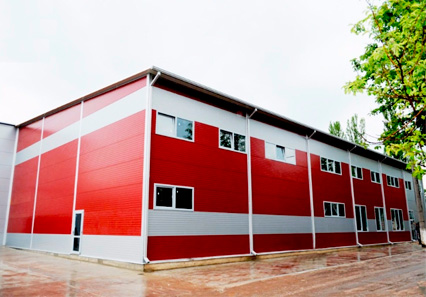 Design parameters
Structures based on a strong metal frame and lightweight sandwich panels are the most popular today. A building of any shape and size may be built within just a few weeks, and, if necessary, it can be further re-installed or supplemented.
Load-bearing and enclosing structures are the main structural elements in construction of such buildings. The main bearing element is a standard frame or a frame made of thin-walled metal. A thin-walled metal frame provides low load on the foundation and has long service life – this causes relatively small price and short assembly time of the building.
The enclosing structures responsible for thermal insulation of the building include walls, ceilings, roof and doors. External enclosing structures protect the building from environmental factors, while internal ones are necessary to divide its space. As for materials used, enclosing structures are divided into prefabricated structures and sandwich panels.
Sandwich panels include two facing shaped sheets with a thermal insulation layer between them. Depending on dimensions of the frame, sandwich panels may be of different size, they may be painted in any color at the customer request. It is user-friendly and affordable material. The resulting thermal insulation of buildings is good enough to be used in construction of up-to-date prefabricated buildings for commercial and industrial purposes. .